We have been granted the use of Society Of London Theatre & UK Theatre's 'See It Safely' mark and Visit Britain's 'We're Good To Go' mark.
These marks certify that we are complying with the latest Government and industry COVID-19 guidelines, to ensure the safety of our staff and audiences.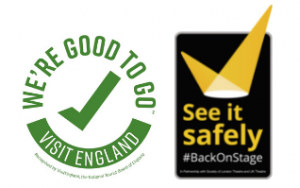 We've been working really hard to ensure that your next visit to the Queen's Theatre Barnstaple and The Landmark Ilfracombe is a safe and reassuring experience.
We've adhered to all the Government and public health guidance and we're ready to welcome you to watch a fantastic performance. Here are some of the ways that we're adapting to make sure your visit is still just as memorable;
E-tickets with 'know before you go' information.
Pre-show emails that explain any changes or additional measures in place before your visit.
Socially distanced seating, with at least 1m+ in between each group of tickets.
Staggered arrival times printed on your tickets.
You'll need to wear a mask throughout your visit and during the performance.
Hand sanitiser at all entrances and exits to the theatre.
Additional cleaning of our facilities and auditorium before and after every performance.
Our team will be supplied with their own PPE and will be assigned to a work station throughout their shift.
Our toilet cubicles, urinals, and sinks will be limited to ensure distancing can take place.
Tickets are limited to a maximum purchase of 6 per customer.
Additional bins have been placed throughout the building for you to place your rubbish in.
We provide information on parking and how to reach the theatre prior to your visit.
We kindly ask that you keep your belongings to a minimum during your visit.
You may be temperature checked on arrival and if you register over 37.8 degrees you will be denied entry.
NHS Track and Trace registration will be mandatory on arrival.
We ask that you do not visit the theatre if;
You believe you have been infected with COVID-19.
You have experienced symptoms in the last 14 days.
You have been in close proximity to anyone who has experienced symptoms in the last 14 days.
You have arrived in England in the last 14 days and are not covered by the exemption rules relating to self-isolation.
You have been instructed to self-isolate.
If you consider yourself to be clinically vulnerable, (or belong to the same household or support bubble as someone who is vulnerable) we advise that you do not attend.
If you have booked tickets and cannot attend but your performance is still taking place, we are happy to exchange your tickets for another performance or provide an account credit to use against a future visit.